Name:
Dan Bowen
Bio:
Dan is a lifelong resident of Wausau and is a retired Information Systems Analyst and Project Manager. He has an interest in the Wausau Community and the quality of life for the people that live here. Working as a volunteer board member for The Wausau and Marathon County Parks Foundation is a great way to support our community and satisfy this interest.
Name:
Kevin Crooks
Bio:
Kevin P. Crooks was born and raised in Wausau, Wisconsin. He is a 1981 graduate of the College of St. Thomas in St. Paul, Minnesota, with a double major in business administration and German, and is a 1984 graduate of Marquette University Law School. His primary practice area is family law, including divorce, paternity, minor guardianship and adoption cases.
Kevin is active in the community and has served as a member of the Boy Scouts of America Samoset Council Executive Board, Wisconsin Judicare Board of Directors, Wausau Historic Landmark Commission, Wausau River Edge Commission, Marathon County Highway Safety Commission and the Granite Peak Ski Patrol.
In his spare time he enjoys kayaking on the Great Lakes and other local lakes and rivers, camping, bicycling, downhill skiing, carpentry, woodworking and traveling.
Name:
William Duncanson
Bio:
William currently serves as …
Name:
Randy Falstad
Bio:
Randy Falstad has been part of the Parks Foundation since 20XX. Randy retired from the WI Department of Natural Resources in 2012 after working for over 28 years as a Conservation Warden, Environmental Warden and Warden Supervisor. Currently, he stays very involved in outdoor related activities, with his main interest being training and hunting with his German Longhair, Caja. Randy serves on the banquet committee for the Rocky Mountain Elk Foundation and is involved with Boy Scouts for his son's troop. Randy serves on the booster club boards for both Mosinee High School hockey and soccer teams. Randy organizes the Sporting Heritage Youth Day where children ages 8-15 are given the opportunity to learn more about outdoor activities each year.
Name: Nicole Fandrey
Bio:

Name:
Charles Newby
Bio:
Charles started the Wausau and Marathon County Parks Foundation while he was the Assistant Parks Director in the early 1980s. Charles joined the Marathon County Parks Department in January 1979 after working 10 years with the Wisconsin DNR. While working for the DNR, Charles was responsible for overseeing 14 state parks in Southwestern Wisconsin (including Devil's Lake, Governor Doge and Wyalusing). Prior to working for the Wisconsin DNR, Charles worked 3 years as a Ranger with the National Park Service. He retired in 1991 from the Marathon County Parks Department as the Parks Director. While enjoying his retirement, the "parks" continue to play an important part in Charles' life.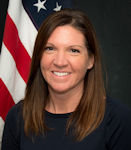 Name:
Jamie Polley
Bio:
Jamie Polley is the Director of Parks, Recreation & Forestry for the City of Wausau and Marathon County. She is a native of Marathon County and after living in Minnesota for the last 11 years, made her way back home in 2018. Jamie is excited to lead this unique city/county department forward and tell the story of what the Parks, Recreation and Forestry Department is and does so that all citizens know of the opportunities available to them. Jamie has a bachelor's degree in Exercise and Sports Science and a master's degree in Sports Management. Outside of work Jamie is an avid runner and loves to spend time with her family enjoying the outdoors.
Name:
Joe Rohling
Bio:
Joe was born in Wausau and has spent most of his life here. He is a retired Respiratory Therapist/Manager with over 35 years in the profession but still works occasionally for Aspirus Wausau Hospital doing respirator fit testing. Besides his respiratory degree he also has a bachelors degree in Recreation Administration from the University of Wisconsin, LaCrosse and worked for the Marathon County Park Department while in college. He has been an active member of the National Ski Patrol for over 45 years holding many different positions and is currently with the Granite Peak Ski Patrol where he is one of the trainers. He enjoys biking, skiing, canoeing, and some rock climbing when he can. Joe joined the Parks Foundation in early 2018 and believes our parks are one of the county's greatest assets. He is married, has a daughter and 2 dogs.